Unintentionally from abroad were found on a blog a good tool for this, we can not wait for the recommendation of this completely free SQL Intellisense Prompt tools (http://www.red-gate.com/products/sql_prompt/index.htm) , The initial use of down, it can really enhance a certain production efficiency.
The tool supports only the English version of (Microsoft Query Analyzer, SQL Server 2005 Management Studio, Visual Studio 2005, Visual Studio. NET 2003, SQL Server 2000 Enterprise Manager, UltraEdit32, EditPlus). The principle of this tool and Kingsoft somewhat similar to the use Hook, through FindWindows, matching "window title bar" content targeted to target Sql editing window, Hook the window after the interception of user input Sql script.
So if you are currently using Sql Query Analyser is Chinese, it is necessary to switch to the English environment (in C: \ Program Files \ Microsoft SQL Server \ 80 \ Tools \ Binn \ Resources, to which the 2052 folder name into the re-naming Other names: If 2052 tmp, to re-open the SqlQueryAnalyser, became the English version), and the only way this tool will be from the perception of smart!
Other similar products: SQL Assist http://www.roundpolygons.com/, but not free, and only in the
Microsoft Visual Studio. NET IDE.
Used.
Another recommendation is to
SoftTree SQL Assistant — For Oracle and SQL Server
Microsoft SQL Query Analyzer example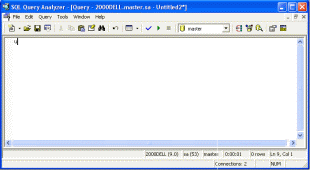 click image to enlarge
Oracle SQL * Plus example
You can follow any responses to this entry through the RSS 2.0 feed. You can leave a response, or trackback from your own site.
Tags: sql